There is a meme going around social media these days, shared chiefly among late Boomers and Gen Xers, featuring the image above, and bearing the legend: DON'T TELL ME ABOUT YOUR CHILDHOOD PROBLEMS. I WAS FORCED TO WATCH LAWRENCE WELK AS A KID. For millions of American kids born roughly between Eisenhower and Nixon, this joke lands because it is true — most everyone my age remembers curling up next to their grandma on the couch on Saturday evenings for an hour of Geritol-sponsored easy listening music and eye-popping Technicolor costumery.
Even younger generations still get it to some degree through exposure to endless public television reruns of the Welk show and the countless jokes made at its expense — who hasn't seen Fred Armisen and Kristen Wiig's sendup of the Lennon Sisters on SNL? The program's trappings — bubbles, matching outfits, anodyne musical arrangements of archaic tunes, accordions, tap dancing — are woven into our national cultural DNA. But exactly who was Lawrence Welk, where did he come from, and how did he end up being big band music's last man standing, decades after the form went out of fashion? It's truly a remarkable tale from an America now long gone by.
Welk was born in 1903 in Strasburg, North Dakota, to parents of Alsatian descent who immigrated from Odessa in the Ukraine (at the time part of the Russian Empire). They had spent their first harsh winter in America freezing in a wagon turned upside-down and covered with sod. The sixth of eight children, young Lawrence attended school taught by German-speaking nuns, but only through the fourth grade, as his parents needed his help farming their homestead. He nearly died at age ten when his appendix ruptured; he had to be rushed to the bigger city of Bismarck for treatment — in the one and only automobile in Strasburg.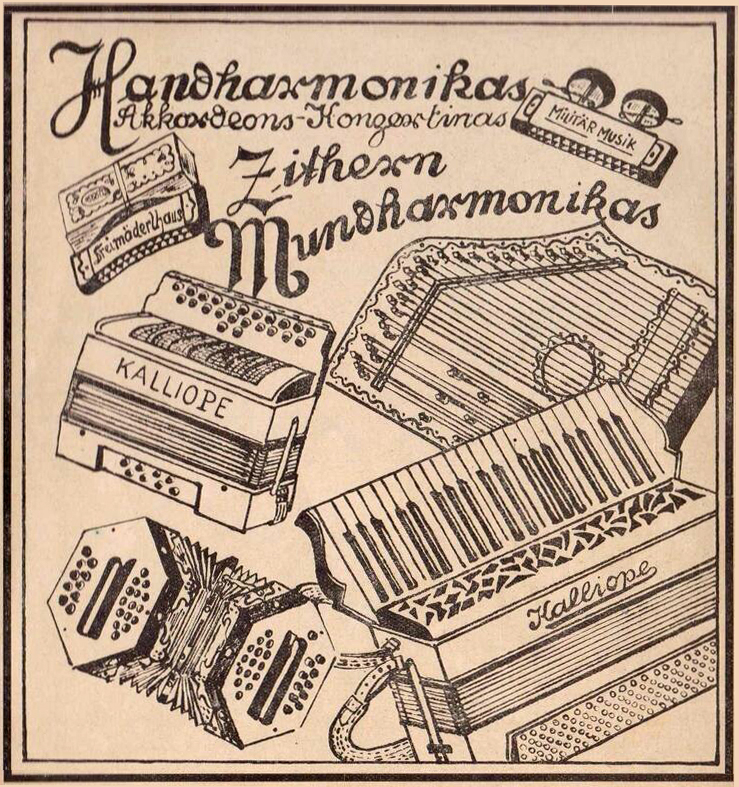 His father had brought an accordion with him from the old country, and Lawrence loved to hear the old man play it. He saved up his pennies and purchased a cheap mail-order accordion of his own, but by his teens he had worn it out. Telling his parents he had decided to dedicate himself to playing professionally, he offered them a deal they couldn't refuse: In exchange for the princely sum of $400 (more than $6000 in 2023 money) to buy a proper accordion, Lawrence would stay and work the family farm until he turned 21 in order to pay them back with his labor — and he would turn over any outside money he made playing local gigs to the family pot, too. They accepted.
Lawrence Welk — who, by the way, spoke practically no English at this point — left the family farm on his 21st birthday to seek his fortune as a musician. He took with him only the clothes he had on, his accordion, train fare and three one-dollar bills hidden inside his jacket.
Over the next few years Welk played in a number of popular (and not so popular) regional dance bands, and led some of his own as well, tracing a circuit of dance halls all across the Upper Midwest. This was a rough time for the young man and his cohorts, who were not always paid, and who endured considerable discomfort schlepping across the rutted and frozen farm roads of the Dakotas between gigs. But he had committed himself fully to the musical life, and he endured. He even manage to squeeze in formal studies at Minneapolis' MacPhail Center for Music, where he eventually earned a degree.
Welk's big break came in 1927, when a blizzard forced his band to stop in Yankton, South Dakota, where they auditioned live on the air as potential house band for local radio station WNAX. They got the gig and Welk quickly recognized the power of the radio medium, as people began flocking to his performances in the area. For much of the next decade, Welk and his backup group — known variously as the Lawrence Welk Novelty Orchestra, the Hotsy Totsy Boys, and, in a somewhat disastrous promotional gimmick, the Honolulu Fruit Gum Orchestra — played for free on WNAX in order to promote their live bookings.
During this period, Welk started cutting records, too, most famously the Spider Webb dance number "Spiked Beer," delivered in a much more spirited "hot" jazz style than modern listeners would associate with Welk's long-established "sweet" sound — the light and bubbly vibe that Welk and his fans would come to call "champagne music."
More and more recording dates and releases followed, including a series of sides made for Paramount in 1931 that have since become valuable collector's items. He signed with Vocalion Records in 1938 and over the next two years released eight singles on that label — all of which made the Top 20 on the Hit Parade. He teamed up with country-western superstar Red Foley in 1945 to cover western swing pioneer Spade Cooley's "Shame on You," and the single charted at number four — one notch higher than Cooley's own recording.
Welk became sharper all the time at the business end of running a band. Self-conscious of his accent, he took diction lessons — but abandoned them when he discovered people found his real voice more charming. He booked as many gigs as he could get, and kept his band burning up the road. At first they traveled in a caravan of cars, changing clothes on the way to the gigs, pinching pennies just to make ends meet. But over time, Welk's strict work ethic paid off; he bought a large sleeper bus and hired a full-time chauffeur to drive his ever-growing crew from one engagement to the next.
Over the course of two decades of relentless touring, Welk uprooted his family repeatedly for new residences in Omaha, Pittsburgh, Denver, Dallas and ultimately Chicago. The grind started wearing him down, and he was ready to put down roots in one place and raise his children. Radio had been very good to him in the past, and having been featured in a series of "soundies" — the prehistoric ancestor of music videos — he somehow intuited that the future of music just might be served up with moving pictures. He had a vision.
Welk moved his whole operation to Los Angeles in 1951 and finagled a deal to produce a program of light dance music, to be aired weekly on KTLA-TV — and The Lawrence Welk Show was born. Shot at the Aragon Ballroom in Venice Beach, the show — a mix of big band instrumentals, ballads and dance numbers sung by soloists and/or ensembles, novelty tunes and spirited dance performances — was an immediate hit and soon the DuMont television network came courting Welk, offering to broadcast it nationally. However, that organization was about to implode (and rather tragically, to sink into obscurity despite its monumental contributions to early television), and Welk ended up signing a national deal with ABC-TV instead.
On July 2, 1955, people from coast to coast tuned in for the network premiere of The Dodge Dancing Party — renamed in deference to its sponsors at the Chrysler Corporation — and once again, it was a smash. The Welk program was in fact so popular that for the 1956 season the network ordered and aired two episodes per week. ABC and Welk tinkered with the name of the show, changing it first to Lawrence Welk Presents Top Tunes and New Talent and then to Lawrence Welk's Plymouth Show. But it didn't matter what they called it — America loved the gentleman bandleader and the wholesome, comforting energy his program beamed into their homes in the era of the hydrogen bomb.
Despite the rather quaint nature of its content, even in its own time, The Lawrence Welk Plymouth Show was the first American television program ever aired in stereo — a cutting-edge innovation at the time, requiring the viewer to turn on both their television and a radio tuned to the local ABC affiliate. The television signal carried one of the two stereo channels; the radio signal the other. Likewise, Welk saw TV's "color revolution" coming and feared that being left behind in the land of black-and-white would mean certain death for his show. ABC did not yet have a studio in California set up to shoot in color, so Welk moved the whole program to the Hollywood Palace, where another popular TV variety show was produced.
Lawrence Welk was hot. Hot enough to be parodied by Stan Freberg, spiritual forefather to Weird Al Yankovic. Welk and various members of his "musical family" were not just on TV, but on the covers of magazines, on all manner of merch and on the radio, too. In a snapshot of what music sounded like right before the Beatles hit, the Welk band's recording of "Calcutta" went to number one on the Billboard pop chart for two weeks, keeping Smokey Robinson and the Miracles's "Shop Around" out of the top spot. At the time, Welk was the oldest person ever to top that chart — at age 57.
The American social revolution of the 1960s saw rock & roll conquer lightweight pop on the charts, and in the broader culture, fealty to old people and their old ways was decidedly out. The increasingly-elderly Welk and his crew of Pollyanna regulars seemed impossibly outdated the moment the Beatles first appeared on The Ed Sullivan Show. Yet somehow, The Lawrence Welk Show remained in the Top 30 national television broadcasts from 1964 to 1969 — even ranking in the Top 20 for three of those seasons.
But change was in the air. Between 1969 and 1971, the three major US television networks thoroughly retooled their programming, in part due to changing viewer demographics, and in part due to Congress mandating more prime time hours — long monopolized by network-produced content — be left open for local programming. The Aragon Ballroom, Welk's longtime television home, burned down in 1970, and a year later, ABC pulled the plug on his show.
Lawrence Welk didn't miss a beat. A canny businessman and investor — he sank his earnings into prime California real estate, and was reputedly the second richest performer in Hollywood after Bob Hope — he started his own production company, hiring many of the people who had been with him all along. He even found loyalty among his sponsors, with Geritol standing behind him as he made the jump to syndication. In an ironic twist, the Prime Time Access Rule that contributed to his cancellation at ABC actually helped him get his show back on the air at local affiliates all over the nation, many of whom aired the program in its old familiar time slot. For the viewers, it was like nothing had changed at all.
By this time, the target audience for The Lawrence Welk Show was aging into retirement, and its aesthetic had been sorely out of fashion for more than a decade. Welk nonetheless kept swinging, staying in the public eye through repeated visits to The Tonight Show, where he had an ardent admirer in host Johnny Carson, a drummer and music hound himself. The Baby Boomer kids who had watched with their parents in the '50s had kids of their own now, and those kids were watching the show on Saturday nights with their grandparents. It was like a broadcast from the past, a window into a time not so long before, but radically different in so many ways.
Nothing lasts forever, of course, and as Welk's 80th birthday loomed on the horizon, the old bandleader decided to retire to a life of golfing on his own personal course and doting on his many grandchildren. His last show aired in the spring of 1982, and for the first time in three decades — outside a series of annual Christmas reunions — Lawrence Welk was off the air.
And then something remarkable happened. A 1987 documentary on the history of The Lawrence Welk Show, including interviews with numerous of its familiar stars, aired on public television, and phones started ringing at PBS affiliates nationwide. People wanted to see Lawrence Welk on TV again, and were willing to donate money to make it happen. OETA, the Oklahoma Educational Television Authority, was entrusted with rerun rights to the show, and relaunched it as an edited package program that has, against all odds, maintained its popularity even into the 2020s.
Lawrence Welk, the man himself, passed away in 1992 at the age of 89, a long way from the sleepy German-speaking village he grew up in. From the humblest of beginnings, he wove his love of music into a uniquely American legacy of gentle decency, familial comfort and warm nostalgia, all set to a light and sprightly beat. Pop!