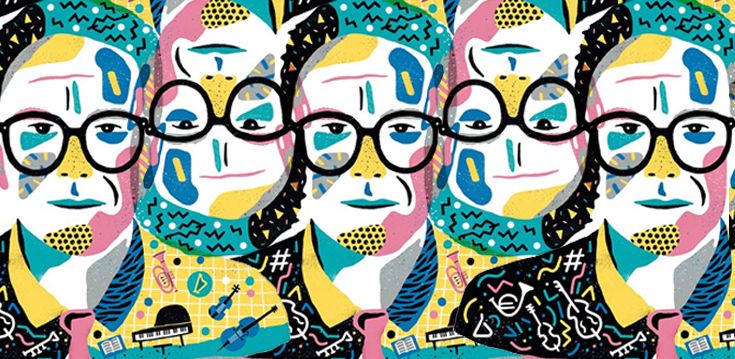 The Big '80s! When you think of the pop music of that shiny plastic decade, what do you hear in your head? Chances are whatever song springs to mind will be swathed in shimmering synths, perforated by disembodied orchestra hits and/or carried along mechanically on a massive cannonade of thundering electronic drums — a funky (but white) cyborg with an organic human voice crammed into a breakdancing Robocop suit made of sequenced bleeps and bloops and cavernous echo.
The glossy, futuristic sheen of '80s pop was probably a foregone conclusion as synthesizers and other electronic musical devices evolved; by the end of the 1970s it was increasingly simple to truly replace all the musicians on any given record with a single synth and a drum machine — and many producers gladly took to this opportunity for reasons of both cost and creative control. Some made high art, others…not so much.
Enter Trevor Horn, a middle-class British kid who, like so many others, had been just exactly the right age when the Beatles hit. Already a capable bassist — even occasionally filling in for his father in the old man's jazz combo — teenage Trevor went wild for the exciting wave of rock and roll sweeping England and the world. One late night when he was 17, he had a moment of clarity in which he knew that he must dedicate his life to music, and was so excited that he woke up his slumbering parents to tell them so. (Their hopes for an accountant in the family were dashed, it seems.)
Horn gigged in cover bands, performed his own Dylan wannabe material on local radio and eventually moved from Durham in the Northeast to London, where the action was. He fell into work as a session bassist and began to learn the basics of music production while writing and producing radio commercials. He toured in Ray McVay's famous big band, helped put together a recording studio and started a cover band called Northern Lights, which also included Buggle-to-be Geoff Downes and future disco singer Tina Charles. When the latter went solo, Horn started a new group, Tracks, which trucked in jazz fusion — but he also looked over Charles' shoulder to learn from her producer, the Indian pop hitmaker Biddu, he who had birthed Carl Douglas' international smash hit "Kung Fu Fighting."
By 1977 Horn had a job with a music publisher, writing and producing demos. His earliest production that saw release was "Don't Come Back," credited to the fictitious Fallen Angel and the T.C. Band. The song was written and sung on the record by fellow clevertrousers Bruce Woolley, who had entered a brief collaboration with Horn and Downes. Horn wrote the frankly ridiculous (yet weirdly infectious) "Boot Boot Woman," which ended up being released as the b-side to a flop single by the fictitious group Boogatti; the a-side was written by Woolley and Rod Thompson and the picture sleeve depicts those two gents as the band. Horn did arrangement and orchestral direction on a kind of spooky disco-adjacent Nola Fontaine single, and produced both this saucy rock & roll record that got banned by the BBC and this synthy disco number from the fully-falsettoed & mustachioed singer-songwriter John Howard.
Horn wrote, performed on, produced and even appears on the seven-inch picture sleeve for "Caribbean Air Control," a bizarre quasi-novelty tune bubbling over with electronic trills and chirps and released under the name Big A. Gaining steadily more leeway to do what he wanted in the studio, he and Downes wrote, performed and released a whole "sci-fi disco project" album — featuring future Art of Noise bandmate (and Oscar winner!) Anne Dudley on keyboards.
Now Trevor Horn was starting to get some notice. He was called in to help try to revive the stalled career of soul singer Dusty Springfield, resulting in the single "Baby Blue," co-written by Horn and Downes. It wasn't a smash, but it did hit number 61 in the UK singles chart and became a popular club banger too. Next the Horn/Downes production team put their spit-shine on the slab of power pop perfection that is the Jags' "Back of My Hand," which entered the UK Top 20 — and made Billboard's Hot 100 across the pond in America, to boot. Horn remixed the disco one-hit wonder "Monkey Chop" for Island Records and also managed to secure a recording deal there for the Buggles, the name given to his ongoing musical partnership with Geoff Downes.
The first single the Buggles released was "Video Killed the Radio Star" — which had already once been recorded by co-author Bruce Woolley and his project, Camera Club (with pre-fame Thomas Dolby). Woolley's release had not made a dent in the charts, but the Buggles' rendition became a worldwide sensation, hitting the Top 40 in 21 countries and number one in eleven of those. Trevor Horn, 30 years old, had arrived.
At this time our man had established a serious romantic relationship with Jill Sinclair, co-founder of the vaunted SARM Studios, who was branching into artist management and had grand plans for starting a label. She started pushing Horn to give up the grimy, exhausting business of live performance in favor of cultivating his production portfolio, but just as the two were about to be wed, an unforeseen and irresistible opportunity fell into Horn's lap.
The vaunted prog-rock juggernaut Yes, while in the studio preparing a new album, had ground to an ignominous halt due to a combination of creative differences and drummer Alan White's cracked ankle, earned while drunkenly rollerskating with Richard Branson. In the fallout, longtime Yes singer Jon Anderson and keyboard wizard Rick Wakeman walked away from the group. The remaining members — bassist Chris Squire, guitarist Steve Howe and White — soldiered on, trying to put together new material without the input of the key missing personnel. Yes' manager, Brian Lane, had recently taken on management of the Buggles, and suggested to Horn and Downes that they submit a song to the group.
The Yes guys loved "We Can Fly from Here" so much that they immediately pressed the Buggles boys to record it with them — without having told them that they would be replacing Anderson and Wakeman. Before they knew what was happening, Horn and Downes were full-time members of Yes, recording the album Drama and touring with the band across North America and the UK.
For Horn it was a blessing and a curse. He knew he was going to be judged harshly as replacement for Anderson, the only lead singer Yes had ever had across nine previous albums — although to his credit, his naturally high singing voice was a reasonable substitute for Anderson's. Additionally, Horn had never played to crowds as big as those on the Drama tour, and the anxiety caused him great stress, especially when the band got to the English leg of the tour and audience reaction turned notably more hostile. But on the other hand, when was he going to get this kind of chance again? He and Downes soldiered through the tour, then quietly left the group as Yes officially (albeit quite temporarily) broke up.
Horn decided to take his wife's career advice, and after recording one more Buggles album entirely without Geoff Downes, who was following Yes' Steve Howe to prog-pop superstardom in Asia, he largely put performance aside and set about the business of becoming the most influential producer of his era.
But what made him so? What is it about a Trevor Horn production that sets it apart, and why did so many others ape his style in the decade following his first appearance on the charts? There are any number of telltale hallmarks of his work — big grand pianos, rich bursts of strings, towering echoes, mountainous drums, cars starting, staccato horn blasts. human voices played as a calliope — but perhaps the aspect that most thoroughly pervades his catalog is a sense of space in which every instrument, every sound, every breath is a discrete presence, precisely measured and dispensed exactly where it is supposed to be, bordered by but never exactly touching the adjacent sounds. There is nothing accidental in a Trevor Horn recording, nothing sloppy, nothing to spoil the seamless perfection of the groove. His musical sensibilities coalesce around prog but clearly include classical, funk, jazz, AM radio pop and the beats-and-scratches vibe of early hip-hop, all of which he masterfully combines into an instantly recognizable style, even across individual musical projects that range from smooth to jarring.
But on top of all that, there's Trevor Horn's secret weapon: Technology.
As noted earlier, synthesizer technology was growing by leaps and bounds in this time period, but the introduction of the Fairlight CMI workstation was something else altogether. Not only could you sculpt sounds using a computer interface with a light pen(!), but now it was possible for the first time to record a noise — any sound at all — and play it as music on the keyboard. Geoff Downes bought one and as soon as Trevor Horn saw it, he knew he had to have one too. Figuring it was better to ask his wife for forgiveness than permission, he spent £18,000 — substantially more than the cost of a Mercedes 300 sedan — to get his hands on one of only four Fairlights then in Britain.
But when he started fooling around with the newfangled electronic beast, Horn discovered it came with a massively steep technical learning curve. Uneager to take on the task of becoming studio IT guy — "I hate to read the manual!" — he hired local techie J.J. Jeczalik, who had previously worked for Downes, and let him off the leash with the Fairlight. In short order, Jeczalik's technical work and Horn's musical instincts came together to carve a whole new niche out of the sonic space of popular music.
While putting together ABC's landmark debut album The Lexicon of Love in the SARM East studios, the production team of Horn, J.J. Jeczalik, Anne Dudley and house engineer Gary Langan worked to fuse all the new technology at their fingertips into whole new hybrid ways of recording music. Drum and bass parts would be meticulously manually programmed into the machinery as guides for the musicians to "trace" along. Individual sound elements would be recorded in isolation, sampled and played back on the Fairlight, and several machines could even be linked in rhythmic unison, creating perfect, endless stretches of precision-crafted grooves. The end result was an album that leaped out of the radio when it was new and still sounds fresh nearly 40 years later. (Not to mention it entered the UK album chart at number one, charted four singles and went platinum!)
And then came Malcolm McLaren and the World's Famous Supreme Team, as unlikely a combination of talents as one is likely to encounter in a recording studio together. McLaren was, of course, the famously greasy and outrageous punk rock Svengali whose PR stunts had helped catapult the Sex Pistols to meteoric fame (and equally swift disaster). On a trip to New York City he had attended a block party with hip-hop founding figure Afrika Bambaataa, and had fallen madly in love with the new street culture and music he encountered. He contracted the Supreme Team, whose popular radio show was a Petri dish for the burgeoning hip-hop scene, and brought them to England to collaborate on a single.
The resulting song, "Buffalo Gals," sounds deceptively simple but actually took weeks of time to assemble. A Top Ten hit in the UK, the song missed the pop charts in America; despite its provenance as a release by a white British non-musician, the song nonetheless became a touchstone in the history of hip-hop music and has itself been sampled by numerous artists in the years since.
Horn began to experiment with sampling larger and larger fragments of music into the Fairlight and manipulating whole sections around, deconstructing and rearranging some of his hits into almost Cubist reimaginings. With 12-inch remixes of ABC's "The Look of Love" (which went to number one on the US dance chart) and later Yes' "Owner of a Lonely Heart (Red & Blue Mix)," Horn expanded the vocabulary and possibilities of the form, in the process highlighting the precision of his modus operandus. Listen to any of these expanded versions of familiar songs and marvel at how every single musical element exists in its own space, able to be deformed and stretched and squeezed independently of every other element. In the modern era, when people record whole albums on an iPad, this is not remarkable — but in 1983 it seemed little short of sorcery.
Speaking of Yes, in the two years since their breakup at the end of the Drama tour, the various members of that collective had been busy enough to fill an article on their own. Suffice it to say that a fresh lineup of the group was ready to get to work on a new album, built in no small part around material written by their new guitar player, South African native Trevor Rabin.
Just as Horn was called in to produce this upcoming Yes project, Fairlight released an upgraded version of the CMI workstation, equipped with a revolutionary bit of new gear known as Page R — the first full-on sequencer. Already a meticulous craftsman accustomed to laboriously building beats and sound patterns by hand with existing equipment, Horn was suddenly given the ability to do the same for melodies, arpeggios and bars of music. With Page R, even a person who is completely unable to play can program the keyboard to play whatever they want. Here's what Trevor Horn did with it:
Yes' big comeback album, 90125, was a massive hit for the band, but only one of the highlights of 1983 for Trevor Horn. He and his wife Jill Sinclair, along with music journalist Paul Morley, officially formed Zang Tuum Tumb (ZTT) Records that year, and their studio team from the ABC album — Horn, Jeczalik, Dudley and Langan —officially formed the recording group Art of Noise, whose first release was the iconic "Beat Box," built around drum samples taken from Alan White's work on the 90125 sessions. The single just barely missed the Hot 100 in America but went straight to number one on the dance chart, and number ten on the "Black Singles" chart.
Also in 1983, Horn signed the savage young club band Frankie Goes to Hollywood, having seen them perform a rough, unpolished version of their song "Relax" on the TV music program The Tube. He took them under his wing and within a matter of months they had placed three singles in the number one spot on the UK pop chart, and one at number two, too — despite the band's preexisting fan base being upset that the actual members of the group contributed little to the Welcome to the Pleasuredome double LP, having been brushed aside by Horn's armada of musical automata in the pursuit of perfection.
By now the idiosyncrasies of the Trevor Horn production style were starting to be widely adopted by other artists and producers, not least among them dance-funk legend Bernard Edwards of Chic — another bassist who found a comfortable second life behind the board, producing hits for Duran Duran, ABC, Power Station, Rod Stewart, Robert Palmer and others. Pop radio was exploding with big audacious noise, with singles from New Order, the Cars, Tears for Fears, Sly Fox, Kenny Loggins, Cyndi Lauper, Peter Gabriel, David Bowie, Depeche Mode and countless others taking pages from Horn's music-as-construction-project playbook.
But nothing lasts forever, and as the '80s wore on, perhaps predictably, New Wave fatigue set in. After about 1987, when "The Promise" just almost made the US Top Ten, precious few synthpop singles found success; guitar rock was coming back, and black music was taking up more and more chart space with the rise of hip-hop, New Jack Swing and a new generation of R&B ballad acts. Horn, never one to sit still for long, just put his head down and kept working, adapting his approach as new musical styles — and new technologies — came and went.
As the decade drew to a close his focus slowly shifted away from New Wave-era acts like Pet Shop Boys and Simple Minds toward legacy artists such as Paul McCartney, Rod Stewart, Mike Oldfield (who dubbed Horn "Dr. Click" for his obsession with strict meter), Tom Jones, Cher, Tina Turner and Genesis. He worked on film scores and remixes of old classics, made new music of his own with his band of studio rats and even had time to help break latter-day new artists such as Seal and t.A.T.u.
Horn's legacy was given an all-star salute in a 2004 Prince's Trust concert that featured live performances by the man himself and many of the most famous acts he had produced over the previous 25 years, including Propaganda, Grace Jones, Belle & Sebastian, Art of Noise, Lisa Stansfield, ABC, Dollar and others. This show is notable for having featured the first ever live performance of "Video Killed the Radio Star" by Horn, Downes, drummer Paul Robinson and backup vocalists Debi Doss and Linda Jardin — the entire personnel of the 1979 Buggles recording.
Two years ago, coinciding with his 70th birthday, Horn released Trevor Horn Reimagines the Eighties, an album of orchestral-flavored reconstructions of 13 of his favorite songs from that decade. Joined by a raft of fine guest singers — and singing a few numbers himself — Horn arranges and presents these songs with such loving care that any doubts one might have ever had about his deep abiding love for music must surely be banished forever. There's cascading sunshine in the lush strings and crisp acoustic strum of "Everybody Wants to Rule the World" (sung by Robbie Williams), melancholic yearning in the lovely horns leading into "Dancing in the Dark" (Gabrielle Aplin), nervous tension in the push and pull of strings and drum machines in "It's Different for Girls" (with a fine vocal turn by Marillion singer Steve Hogarth, of all people). The whole album manages the not inconsequential feat of being deeply nostalgic, yet completely contemporary.
If Trevor Horn Reimagines the Eighties was the very last artistic statement to come out of the man, it would be hard to imagine a more fitting coda. But Horn shows little sign of slowing down, and if history is any indicator, he may still be sculpting our sonic headspace for years to come. As long as there is new ground to break, he's likely to be there — the latest shovel in hand.