So you lost a whole summer to COVID-19 and now you're vaxxed, waxed and maxed to make up for lost time. You got your hair cut, bought a couple summer shirts a size bigger than last year's — all you need now is a soundtrack to accompany your impending seasonal hi-jinx.
To that end, Honk Journal humbly offers its Summer Jamz 2021 Playlist, featuring 95 songs by different artists — that's five hours and thirty-four minutes of wide-ranging musical enjoyment! And though there may appear to be no set logic to the selections, there is in fact a method to this madness. The first track is "Good Vibrations," composed by Brian Wilson, whose June 20 birthday falls on this year's summer solstice. The next song corresponds to Ray Davies' June 21 birthday, on and on, all the way to Joan Jett's birthday on September 22, the day of the autumnal equinox.
The complete list of songs, artists and birthdays follows below. Click the Spotify link above and enjoy these choice jams while roadtripping, hanging at the pool, grilling your choice of delectables, blowing your fingers off with fireworks and/or pumping your guns at the gym. Crank it up — and have a great summer!
---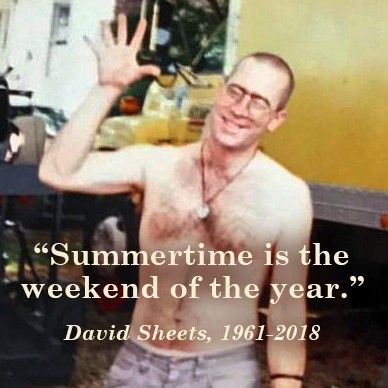 ---
Good Vibrations – The Beach Boys
Brian Wilson – June 20, 1942
Do It Again – The Kinks
Ray Davies – June 21, 1944
We Gotta Get You a Woman
Todd Rundgren – June 22, 1948
Juke Box Blues
June Carter Cash – June 23, 1929 – May 15, 2003
Feel Good Song
Solange – June 24, 1986
Everything She Said – Wham!
George Michael – June 25, 1963 – Dec. 25, 2016
Goodbye to You – Scandal
Patty Smyth – June 26, 1957
Music Box Dancer
Frank Mills – June 27, 1942
Cowboy Fora De Lei
Raul Seixas – June 28, 1945 – August 21, 1989
I Can See It in Your Eyes – Men at Work
Colin Hay – June 29, 1953
Ain't It de Truth?
Lena Horne – June 30, 1917 – May 9, 2010
Love Come Down
Evelyn "Champagne" King – July 1, 1960
Gotta Go Get My Baby
Marvin Rainwater – July 2, 1925 – Sept. 17, 2013
A Little Respect – Erasure
Vince Clarke – July 3, 1960
Blow Your Head – The J.B.'s
Fred Wesley – July 4, 1943
Heart and Soul – Huey Lewis & the News
Huey Lewis – July 5, 1950
Straighten Up and Fly Right – The Andrews Sisters
LaVerne Andrews – July 6, 1911 – May 8, 1967
See the Big Man Cry
Charlie Louvin – July 7, 1927 – January 26, 2011
Debra
Beck – July 8, 1970
Welfare Boogie – Fraternity
Bon Scott – July 9, 1946 – Feb. 19, 1980
Slippery People – The Staple Singers
Mavis Staples – July 10, 1939
Buy for Me the Rain – Nitty Gritty Dirt Band
Jeff Hanna – July 11, 1947
Magnet and Steel
Walter Egan – July 12, 1948
I'll Feel a Whole Lot Better – The Byrds
Roger McGuinn – July 13, 1942
Dizzy – Throwing Muses
Tanya Donelly – July 14, 1966
Owner of a Lonely Heart – The Sarm Orchestra
Trevor Horn – July 15, 1949
007 (Shanty Town) – The Aces
Desmond Dekker – July 16, 1941 – May 25, 2006
Gimme Danger – The Stooges
Ron Asheton – July 17, 1948 – January 6, 2009
Nowhere to Run – The Vandellas
Martha Reeves – July 18, 1941
'39 – Queen
Brian May – July 19, 1947
Bette Davis Eyes
Kim Carnes – July 20, 1945
Pink Panther/It Had Better Be Tonight (Meglio stasera)
Plas Johnson – July 21, 1931
Closer to Fine – Indigo Girls
Emily Saliers – July 22, 1963
Polk Salad Annie
Tony Joe White, July 23, 1943 – Oct. 24, 2018
Life in the Gladhouse – Modern English
Robbie Grey – July 24, 1957
Psychic Hearts
Thurston Moore – July 25, 1958
He's a Rebel – The Crystals
Darlene Love – July 26, 1941
Fancy
Bobbie Gentry – July 27, 1942
Beautiful World – DEVO
Gerald Casale – July 28, 1948
Fly by Night – Rush
Geddy Lee – July 29, 1953
Hounds of Love
Kate Bush – July 30, 1958
No New Tale to Tell – Love and Rockets
Daniel Ash – July 31, 1961
Friend of the Devil – Grateful Dead
Jerry Garcia – August 1, 1942 – August 9, 1995
Boom Clap
Charli XCX – August 2, 1992
The Best Is Yet to Come
Tony Bennett – August 3, 1926
Space Age Love Song – A Flock of Seagulls
Paul Reynolds – August 4, 1962
Shake Your Rump – Beastie Boys
Adam "MCA" Yauch – August 5, 1964 – May 4, 2012
The Future's So Bright, I Gotta Wear Shades – Timbuk3
Pat MacDonald – August 6, 1952
I Get Enthused
B.J. Thomas – August 7, 1942 – May 29, 2021
Skinny Legs and All
Joe Tex – August 8, 1935 – August 13, 1982
How Will I Know?
Whitney Houston – August 9, 1963 – Feb. 11, 2012
A Song for Jeffrey – Jethro Tull
Ian Anderson – August 10, 1947
Such Great Heights – The Postal Service
Ben Gibbard – August 11, 1976
I Don't Care (Just as Long as You Love Me)
Buck Owens – August 12, 1929 – March 25, 2006
Teenage Kicks – The Undertones
Feargal Sharkey – August 13, 1958
I'll Coming Running
Connie Smith – August 14, 1941
What a Man Gotta Do – Jonas Brothers
Joe Jonas – August 15, 1989
Gotta Be This or That
Ketty Lester – August 16, 1934
Jackie Wilson Said – Dexys Midnight Runners
Kevin Rowland – August 17, 1953
Crash – Primitives
Tracy Tracy – August 18, 1967
Space Truckin' – Deep Purple
Ian Gillan – August 19, 1945
Pocket Calculator – Kraftwerk
Ralf Hütter – August 20, 1946
The Magnificent Seven – The Clash
Joe Strummer – August 21, 1952 – December 22, 2002
Sugar, Sugar – The Archies
Ron Dante – August 22, 1945
Speak to the Sky
Rick Springfield – August 23, 1949
Classical Gas
Mason Williams – August 24, 1938
Another Sunny Day – Belle & Sebastian
Stuart Murdoch – August 25, 1968
Needles and Pins – The Searchers
Chris Curtis – August 26, 1941 – Feb. 28, 2005
Tennessee River – Alabama
Jeff Cook – August 27, 1949
Crazy Horses – The Osmonds
Wayne Osmond – August 28, 1951
Wanna Be Startin' Somethin'
Michael Jackson – August 29, 1958 – June 25, 2009
No One But You – Kitty Wells & Red Foley
Kitty Wells – August 30, 1919 – July 16, 2012
Only in My Dreams
Debbie Gibson – August 31, 1970
Massachussetts – Bee Gees
Barry Gibb – Sept. 1, 1946
Love Me Just a Little Bit More – Dolly Dots
Esther Oosterbeek – Sept. 2, 1959
A Six Pack to Go
Hank Thompson – Sept. 3, 1925 – Nov. 6, 2007
Rusty Cage – Soundgarden
Kim Thayil – Sept. 4, 1960
Year of the Cat
Al Stewart – Sept. 5, 1945
Dreams – The Cranberries
Dolores O'Riordan – Sept. 6, 1971 – January 15, 2018
Talk of the Town – Pretenders
Chrissie Hynde – Sept. 7, 1951
Waiting for a Train
Jimmie Rodgers – Sept 8, 1897 – May 26, 1933
Love Is a Stranger – Eurythmics
Dave Stewart – Sept. 9, 1952
Good Guys and Bad Guys – Camper Van Beethoven
David Lowery – Sept. 10, 1960
Hair – Hair Ensemble
Gerome Ragni – Sept 11, 1935 – July 10, 1991
Midnight at the Oasis
Maria Muldaur – Sept. 12, 1943
Gopher Mambo
Yma Sumac – Sept. 13, 1922 – Nov. 1, 2008
The American Ruse – MC5
Fred "Sonic" Smith – Sept. 14, 1948 – Nov. 4, 1994
Sister Christian – Night Ranger
Kelly Keagy – Sept. 15, 1952
Only Shallow – My Bloody Valentine
Bilinda Butcher – Sept. 16, 1961
Settin' the Woods on Fire
Hank Williams – Sept. 17, 1923 – Jan. 1, 1953
Point of Know Return – Kansas
Kerry Livgren – Sept. 18, 1949
Dream a Little Dream of Me
"Mama" Cass Elliot – Sept. 19, 1941 – July 29, 1974
Lies – Thompson Twins
Alannah Currie – Sept. 20, 1957
So Long, Marianne
Leonard Cohen – Sept. 21, 1934 – Nov. 7, 2016
Fake Friends – The Blackhearts
Joan Jett – Sept. 22, 1958