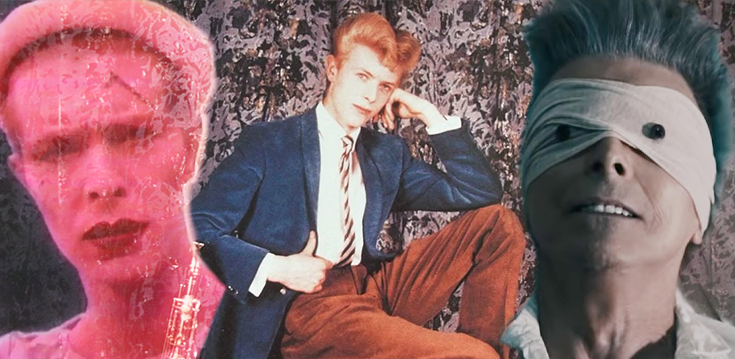 Perhaps no musician in the history of pop music is more well-known for constant metamorphosis than the late, great David Bowie, who would have celebrated his 75th birthday today. Over a career that spanned from the aftershocks of the British Invasion right up to literally the day he died in 2016, Bowie evolved through many distinct forms, from a theatrical-minded acolyte of Anthony Newley to the icon of adventurous music and fashion he was universally recognized as in his final years.
Those who know Bowie back only as far as "Space Oddity" can be forgiven for their ignorance of his earlier work, as most of it went largely ignored upon its initial release. The Brixton-born David Jones started out playing saxophone and singing in a band called the Konrads when he was but 15 years old, in 1962, but he felt the other guys in the band weren't as gung ho for success as he was, so he left the group and joined another, the more blues-oriented King Bees, who — through young Jones' tireless hustling — managed to get a record released. But when the record failed, the Bees were dropped from their deal, and David split.
His next move was great PR, appearing in 1964 on a nationally-televised broadcast as a representative of the Society for Prevention of Cruelty to Long-Haired Men. The same year he joined another blues-boy ensemble, the Manish Boys, who also launched a failed single. A year later he was fronting the Who-flavored Lower Third, and working with Shel Talmy, at the time the hottest producer in England not named George Martin. He started billing himself as Davie (sometimes Davy) Jones, but to avoid confusion with Monkee Davy Jones, he adopted the stage name David Bowie, lifting his surname from the Bowie knife, namesake of Jim Bowie, hero of the American West.
After cutting solo singles for a couple UK labels, and even putting out a whole album in 1967, Bowie, now performing in a music hall revival style, remained unsuccessful. He took a break from recording and studied mime with avant-garde theater legend Lindsay Kemp, played folky-hippie festivals and made a promo film of some new material in hopes of stirring up more interest in his music career. Finally he got some traction and released a second self-titled solo record, this one containing the song that would finally put him on the map, if only just a little.
Bowie would record another LP for Mercury Records, The Man Who Sold the World, and then jump to RCA, who signed him for a three-album deal despite his "one-hit wonder" status. Hunky Dory (this author's favorite Bowie record) was his first release on RCA, and though it went to number three in Britain, America scarcely noticed. It took the gender-bending spaceman-messiah song cycle The Rise and Fall of Ziggy Stardust and the Spiders from Mars for the US to finally sit up and take notice of Bowie — and boy, did it ever.
From there, you know the story. The lightning-faced Aladdin Sane, Bowie the dogman (whose genitalia was airbrushed out of the album art by RCA), Bowie the plastic soul man, the dangerous Thin White Duke, the Man Who Fell to Earth, Berlin Bowie, Bowie as the sad clown Pierrot, '80s pop star Bowie, Bowie the Goblin King, Tin Machine Bowie, electronica Bowie — and then a ten-year break, during which a person felt lucky seeing him pop up anywhere.
And just when it seemed like maybe he was done making music, content to rest on his considerable laurels and enjoy retirement with his beloved supermodel wife Iman (and maybe also secretly run the Guild of Calamitous Intent) — Bowie dropped The Next Day, his strongest album in ages. He even managed to get his gender-swapped doppleganger Tilda Swinton into the act in the video for "The Stars (Are Out Tonight)".
A year later, in 2014, Bowie was diagnosed with liver cancer. This would remain a tightly-kept secret as he began working on the last new work of his lifetime, Blackstar, an album made entirely in secret with a crew of musicians recruited from New York's jazz scene. The record, conceived as a final gift to his fans, dropped as a completely surprise to the public on Bowie's 69th birthday, six years ago today. Two days later, he died, leaving behind a profound body of work, the cultural influence of which is incalculable.
In the end, we are lucky to have walked the earth at the same time with such a bold and visionary artist, and Honk sincerely hopes you will enjoy this David Bowie Diamond Dog Anniversary Playlist, 75 songs in all — one for every year he would have been alive today. What's your favorite iteration of Bowie? Leave a comment below!