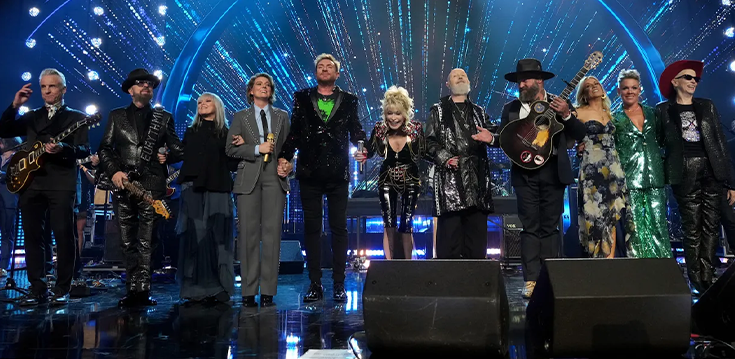 In modern-day America, the hallmarks of middle age include, among many other signifiers, opening your mailbox to find that first mailer from AARP, noticing antique tags on cars that were new when you were in high school, and witnessing popular bands from your own adolescence being enshrined in the Rock & Roll Hall of Fame. For those of us around about 50 years of age right now, the 2022 crop of inductees into that institution certainly serves as such an indication of the advancing years.
The relationship between the Rock & Roll Hall of Fame and chronically-unimpressed Gen X music nerds has long been defined by big love/hate energy. I cannot count the times I have listened to an aficionado snort dismissively at the very idea of a shrine to the unchainable, anarchic spirit of rock & roll — then in the next breath begin complaining about favorite acts of theirs which have unfairly been ignored or outright denied entry into Cleveland's hallowed halls. It's Schrödinger's Institution, existing in two states simultaneously: people don't care about it at all, yet at the same time, they have very strong opinions about who should — and shouldn't — be in it.
The first Rock Hall induction ceremony took place in 1986, when I was but a junior in high school, and that opening class of inductees already seemed like relics from ancient history to me, old farts: Chuck Berry, James Brown, Ray Charles, Elvis Presley, Sam Cooke, Fats Domino, the Everly Brothers, Buddy Holly, Jerry Lee Lewis and Little Richard. Now mind you, I knew and liked all these acts, and was well-versed by then in at least their respective catalogs of hits, as there was still lots of music from the pre-Beatles era on the radio every day in 1986. But the cultural upheaval of the 1960s had already rendered most of them quaint and old-fashioned by the time I was born — and Buddy, Sam and Elvis were long dead, even. That first Rock Hall induction show, while upbeat, was underpinned by a low-key funeral vibe.
So I am a little shocked to do the math today and realize that not a single one of the founding inductees was yet 60 years old at that time. In fact, most were in their early-to-mid-fifties — the age I am now — and both of the Everly Brothers were still in their forties. And there they were, being put in a museum.
Years went by and I grew up and paid little attention to the Rock Hall, checking in once in a while when something piqued my interest, like when Paul McCartney refused to show up for the Beatles' induction in 1988, sparking an epic entitled Boomer rant from Beach Boy Mike Love, or when the Sex Pistols sent a pissed-off letter rejecting their 2006 induction, or when Prince stole the show at the 2004 all-star jam. But year after year, the inductees were still at least a generation ahead of me.
Then in 2014 Nirvana was inducted, and for the first time, without warning, people my age were suddenly being museumified. Dave Grohl is one month younger than me, for cryin' out loud! Then came Green Day, and Radiohead, Nine Inch Nails, Biggie and Jay-Z, and now Eminem, who is four years my junior. It scarcely seems possible that it's been that long since I first heard "Hard Knock Life" and "My Name Is" leaping out of the car radio while driving around smoking reefer with Dave Lawrence in the late '90s — but today those jams, which seemed practically avant garde in their day, really do sound like old chestnuts. And Dave, like way too many other old friends, isn't even around to reminisce about it anymore. Guess it really has been a while.
When I saw the list of inductees for the 2022 ceremony, I noted that it marked the first time in years that I legitimately had at least some degree of fondness for all of them. It occurred to me that practically the entire roster was made up of acts that I grew up listening to in the 1970s or went through musical puberty with in the '80s. This looked like one worth watching — so the other night I streamed the four-hour ceremony via HoboMax. And boy, was it nostalgic.
From the moment Robert Downey, Jr. appeared onstage to induct '80s icons Duran Duran, the whole show was like Generation X Radio Theater, complete with live performances by most of the honorees. Producers Jimmy Jam & Terry Lewis were inducted by Janet Jackson, accompanied by a clip reel of their hits with The Time, George Michael, Mary J. Blige, Human League, and so on. Sheryl Crow brought on Pat Benatar and her husband/guitarist/musical director Neil Giraldo. The Boss honored Jimmy Iovine, a kid who went from virtual studio coffee boy to Interscope Records magnate, complete with another Soundtrack of Your Life clip reel. Alice Cooper inducted Judas Priest (refreshing, considering the RRHOF's famous distaste for heavy metal). Sugar Hill Records visionary Sylvia Robinson was honored for establishing hip-hop as a pillar of the record industry. Carly Simon was inducted, though sadly she could not appear, as both of her singing sisters happened to pass away shortly before the ceremony. John ("The Artist Formerly Known as Johnny Cougar) Mellencamp, in the process of honoring showbiz lawyer Allen Grubman, issued a fiery condemnation of Antisemitism. Lenny Kravitz introduced Lionel Richie, a man who during my childhood and adolescence racked up 16 Top 40 hits with the Commodores — and then 16 more as a solo artist. U2's The Edge inducted Eurythmics. Dr. Dre inducted Eminem. Bruce and John Cougar performed a musical tribute to the late Jerry Lee Lewis, the very last surviving member of that first class of Rock Hall inductees — who had died just a week before.
And then to cap it all off, the singer P!nk inducted Dolly Parton, who admittedly is not a rock & roll artist at all, but who nonetheless has certainly spent more than ample time in the very same popular music space as the rest of these artists, and has without doubt influenced vast numbers of musicians across many genres. Brandi Carlile, P!nk, Sheryl Crow and (for some reason?) the Zac Brown Band did a tribute set to Dolly, capped off by a performance by the great woman herself, doing a bespoke rock & roll song she penned just for this occasion. It was pretty damned heartwarming.
But no Rock & Roll Hall of Fame induction ceremony is complete without an all-star jam at the close, and this was one for the books. Just about everybody who crossed the dais that night joined Dolly onstage for an all-star singalong rendition of "Jolene." The internet blew up immediately after with photos of Rob Halford and Dolly Parton — queer icons from opposite ends of the popular music spectrum — singing together. The credits rolled.
To be honest, being reminded of my age doesn't really bother me as much as it seems to some other folks. I have young children now, still in elementary school, and the age gap between us presents a constant stream of evidence of my advanced seniority, so perhaps I am rarely shocked by such revelations. But it does feel weird when your doctor is younger than you. And seeing Simon Le Bon archived as cultural history does too.
Younger readers may find this humorous. Come back and talk to me when My Chemical Romance is inducted.