Several months ago I kicked off the Honk Journal Food & Drinks category with an article about family recipes, which included the recipe for my Okie grandmother's legendary Cowboy Cookies. The genesis for that piece was the positive response to a post I had made on Facebook, detailing my young sons helping me making a batch of those cookies, and featuring a photo of the handwritten recipe straight out of my grandmother's 80-year-old cookbook.
One of the people who saw that post was my old friend Ai, a Japanese working mother of two whom I first met during her stint studying at WSU more than a decade ago. She and a couple other of her countrymen had a killer Japanese-language rock trio called Kanzashi right here in Wichita, and after our bands played together we all became friends. Though they all moved back to Japan years ago, we have kept in touch via social media — where Ai hit me up.
She had tried to decipher the cookie recipe from the photo on Facebook but found my grandma's beautifully archaic longhand writing impenetrable, and she was hoping I could type it out for her. I was, of course, glad to oblige. Immediately I was faced with the realization that there would be a fair amount of fiddling in the process of translating a generations-old US recipe into a form that would be easy for someone in modern-day Japan to follow. But I was up for the challenge.
First of all, measurements can be tricky. Not just the obvious differences between US measures and the metric system used most everywhere else, but discrepancies in standards such as a "cup." Japan's cup is only 85% the size of an American cup, and not knowing the difference when translating straight across could result in disaster in the end product. (At least their "small spoon" and "large spoon" correspond very closely to our teaspoon and tablespoon, respectively.)
Then there was the matter of ingredients. I grew up with rolled oats in every grocery store, but is that something easy to find in the Far East? And this recipe calls for shortening, too, which it turned out is in fact available over there, but is a bit of an esoteric ingredient, not something likely to be found in your average grandma's pantry. I poked around diligently, double checking my writing over and over for clarity.
Once I had it all parsed out, I sent the updated recipe off to Ai. She got the ingredients together and baked her first batch — and they came out perfect. Look at these beautiful cookies!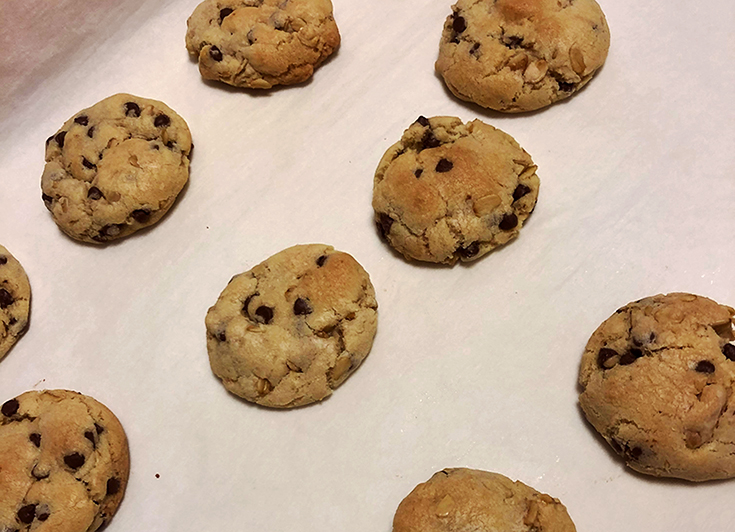 Ai's first batch came out better, in fact, than the ones I had just made, as I had failed to properly chill my dough before baking, causing them to come out flatter than intended. Hers, on the other hand, were absolutely gorgeous — tall and soft and golden, just as they were on the countless occasions my grandmother made them.
Ai remarked on the flavor and the texture of the cookies, which made her nostalgic for her time in America. "I'm so glad you gave me this recipe," she wrote. "It means a lot, and feels like it brings me back to Wichita!"
Her adorable little boy Goro approves, too!
And so here it is, for all those of you outside the US who want to try a rich, sweet mouthful of down-home Americana — the metric recipe. If you try it out, please leave a comment with where you are from and how they came out — and maybe suggest a local cookie or other sweet treat from your neck of the woods for us to try out here in Kansas! We'd love to hear about your favorites.
---
COWBOY COOKIES RECIPE (INTERNATIONAL EDITION)
Ingredients:

475 ml flour
5 ml baking soda
2.5 ml teaspoon baking powder
2.5 ml teaspoon salt
235 ml shortening
235 ml granulated sugar
235 ml brown sugar, packed
2 eggs
355 ml rolled oats
5 ml teaspoon vanilla extract
1/2 bag (about 170 g) chocolate chips (milk or semisweet)
235 ml pecans, chopped
Preparation:
1. Sift together flour, baking soda, baking powder and salt. Set aside.
2. In a mixing bowl blend together shortening, sugar and eggs, then beat until fluffy. (An electric hand or stand mixer works best if you have one.)
3. Slowly stir in flour mixture, then oats, vanilla, chocolate chips and pecans. Mix until uniform.
4. Cover the dough with plastic wrap or a towel and place in the refrigerator for an hour or two, until it is thoroughly chilled.
5. Preheat your oven to 180° C. Roll dough into balls about the size of a golf ball and place on a cookie sheet covered in parchment paper (if you have any; if not, spray the cookie sheet first with food release to prevent sticking). Try to make the dough balls uniform and leave enough space between them so that they don't spread together as they bake.
6. Bake for about ten minutes, until just starting to brown; they are better if a little underbaked than overbaked.
7. Remove from oven, let cool on the cookie sheet, then store in an airtight container. This recipe will make roughly three dozen cookies.